Shanghai, 2 March 2022 – DNE Group is delighted to announce that New Ease, a wholly owned subsidiary of DNE Group was named 'Firm of the Year: China' at the PERE Awards 2021 after receiving the largest number of votes in a public ballot of the real estate industry.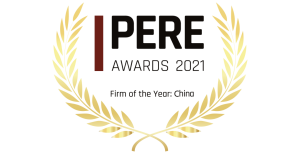 New Ease was highlighted for raising a US$1billion logistics fund with QuadReal Property Group and establishing a US$488 China warehouse platform with Goldman Sachs.
Mr. Dongping Sun, the Chairman and Chief Executive Officer of DNE Group, said:
" We are delighted with the recognition and would like to express our sincere thanks to our investors, partners and dedicated teams."
He added:" Looking back at the fruitful year of 2021, we have had several major milestones. The biggest was the merger of New Ease with D&J to form the new DNE Group at the end of the year. From capital markets perspective, we raised 10 new fund vehicles in 2021, including core logistics funds, development logistics funds and industrial urban renewal funds, with the support of partners like QuadReal Property Group. We appreciate our investor's commitment and trust and will continue to deliver strong results and maximize returns for our valued investors."
About PERE Global Awards
The Global PERE Awards recognize significant achievements in the global real estate industry and is highly respected across the global real estate private equity industry.