(NANJING, March 16, 2018) Dongjiu held a ceremony and launched showroom for Divine Space Technology Center. Divine Space is located in the heart of Nanjing Jiangning University City and adjacent to the Jiangning Sport Center. It's positioned to attract tenants from leading IT industries and drive the settlement of innovative enterprises. The park integrates the concept of "innovation, coordination, green, openness and sharing" into its design. Consequently, the architectural forms, which include standard office buildings for leading enterprises' headquarters and TOHO units for start-up innovative companies, are diversified to attract IT enterprises from both upstream and downstream industrial chains.
Mr. Sun Dongping, chairman and CEO of the Company, commented: The integration of industry and finance, partnership with leading state-owned industrial park developers and the rising demand of companies of Fortune 500 multinational and pillar industries in new economy are the key drivers to the rapid growth of Dongjiu. Meanwhile, through Dongjiu's growth, we help situs of our projects to accelerate their industrial restructuring and upgrading process and to power the transition from "Made in China" to "Created in China".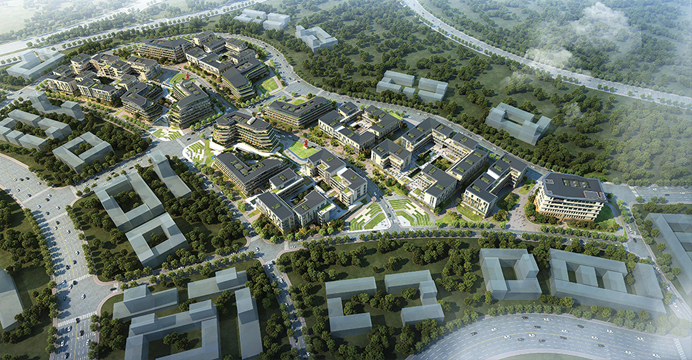 Ms. Ellen Ng, managing director of Warburg Pincus, commented: As one of the most-established global private equity firms, Warburg Pincus has strong belief in the long-term prospects for China. We have over 25 years of experience in TMT industries and invested in a portfolio of companies, such as: Weidian, Liepin, Youxinpai, Edaijia, 58, NIO, Ziroom, Geekpark, etc. Divine Space will perfectly inherit Warburg Pincus's DNA in TMT industries and become a leading business park integrated with the theme: "Internet Economy, Internet Innovation, Internet Culture, Internet Governance and Internet International Cooperation".
Ms. Miu Xiumei, Secretary of Party Work Committee of Nanjing Gaoxin District, commented: Following the lead of both provincial and municipal government, Jiangning District has undergone transformational changes and successfully created a friendly environment for high-tech and innovative start-up companies, new economy industries are accelerating their paces to concentrate in the area. During the transformation, Warburg Pincus and Dongjiu provided great support thus the cooperation among us grow even closer. We cherish our partnership and are very pleased to see the gradual formation of a well-established internet technology society.